I can't believe it's already my 3rd year on this blog. Time sure flies. Since I'm set on doing this every year, might as well lay down some rules for giving awards to anime/manga I've watched/read.
One award per one franchise in one year (so Yuri on Ice can't get every award on the list, and neither can Ghost in the Shell)
MINIMUM SPOILER
The recipients can be released in any year, but I have to start/finish it in 2016
Awards are based solely on my opinion. Recommendations for next year are welcome! (If you want to see which ones I've already watched, check here.)
Since I haven't seen or read as much as last year, this list might not fill every award, and I might add new ones.
To start off:
Best Sci-fi goes to: Ghost in the Shell
You can never go wrong with GITS. Its questions about humanity can be endlessly discussed. Live action starring Scarlett Johansson (Black Widow!) coming this year.
Best Historical goes to: Kaguya-Hime no Monogatari
Kaguya-Hime is an atmospheric and aesthetically pleasing anime movie. The art style is unique and the story of Kaguyahime's struggles is fantastic and real. Kaguya-Hime is a break-off from traditional princess stories and you will find yourself rooting for the princess all the way while learning ancient Japanese culture.
Best Drama (anime) goes to: Re: Zero kara hajimaru isekai seikatsu

What's better for drama than a hell loop? Although Re: Zero is a combination of the time loop and different world trope, it managed to get its own standing and became a very emotionally intense anime. (It may appear like harem but it's not quite harem…)
Best Drama (manga) goes to: Higurashi no Naku Koro ni Onisarashi-hen
This twisted hell of a side story brought Higurashi back to its throne on my favorite manga list. Although a side story, Onisarashi has all the charms of the original Higurashi manga.
More below.
Best Action goes to: Douluo Dalu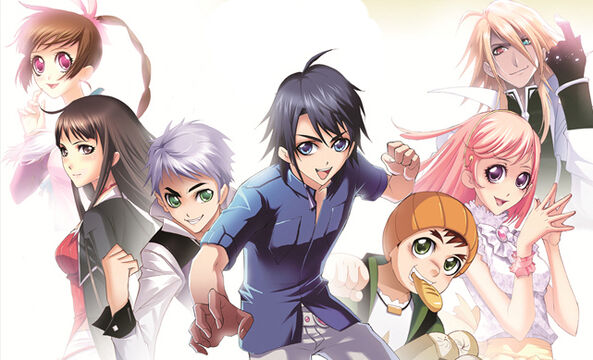 Note: this is actually a Manhua and it's in full color
I never thought I would be desperate enough for titles that this one made it to the top…ahaha… Douluo Dalu (I keep misspelling the name) is full of cliche and the amount of support Tang San gets is annoying as heck, but at it's best it's the most enjoyable action I've had this year.
Honorable Mention: Tenkuu no Escaflowne
It was hard deciding between this one and Douluo, but meh, I didn't really fancy the art style and the mega villain in this so it fell to second.
Best Comedy (Anime) goes to: One Punch Man

ONE PUNCHHHHHHHHHHHHHHH 3,2,1, KISSHOU!!! One Punch Man is funniest thing I've seen since Gintama. The action is superb and the comedy is very entertaining.
Best Comedy (manga) goes to: Hiiro Ouji
What's up with a vampire carrying a blood transfusion stand around? Short and sweet, it's great for bored minds.
Honorable Mention: Noblesse
Noblesse is awesome. Rai is funny as heck. The jokes get repetitive after a while, so yeah.
Best Horror goes to: Tokyo Ghoul

Intense. And violent. You know the rest.
Best Fantasy (anime) goes to: The Cat Returns
Last Studio Ghibli film on my watchlist. Why I like it? Baron. And how imaginative the whole thing is. It's like seeing my childhood dreams playing on the screen.
Best Fantasy (manga) goes to: Ran to Haiiro no Sekai
A coming of age tale of a young sorceress told through vibrant art and a pair of shoes. Ran and the Grey World has gripping story and a set of lovable characters that will make you fall in love with every panel.
Honorable Mention: Sennen Meikyuu no Nana Ouji
SenMei is enjoyable…before you start looking into deus ex machina that keeps recurring throughout that detracts its standpoint as some sort of death game fantasy Josei. Otherwise it was enjoyable with plenty of likeable characters and plot holes and logical error in terms of politics and generic protagonist. But I still like it.
Best Psychological (anime) goes to: Mawaru Penguindrum

You know stuff is about to go out of control when your dying sister turned into a Mecha princess wearing a penguin hat while commanding you to find 'Penguindrum'. Prepare to get mindblown by the tale of three siblings who got a package of ghost penguin robots mailed to them. Let's initiate the Survival Strategy!
Best Sport (manga) goes to: Tetsuwan Girl
Japan had just lost the second world war. People tried to recover, and glory seemed far away. That is about to change when pitcher Tome Kano, nicknamed the "Iron-Armed Beauty" stepped onto the mound. A story of discrimination and liberation.
Tetsuwan Girl is more of a political drama than a sports manga. It went overboard at times, fell into cliche at times, but still managed to retain its uniqueness. Try it, but I warn you, there's no getting off the feels train.
Most Unsettling: Partner
Reviving dead people through science? Check. Gross baby that makes you wanna puke? Check. Seeing your brother kill himself and become a brainless cyborg? Check.
Best Slice of Life (anime): When Marnie was There

There's no place for me, said Anna. She belongs to the outside, while others are in the inside. Anna's loneliness captured the heart of many in the book, and more so in the film. When Marnie was There is a beautiful movie about a girl's struggle to find a place where she belongs. Of course it's Studio Ghibli, so no worries about the quality.
Honorable Mention: Hana to Alice
The girls appear very life-like, and watching the small interactions between them was fun.
Best Slice of Life (manga): Snusmumrik no Koibito

One manga that actually takes the topic of sexuality seriously.
Honorable Mention: Vitamin
A short yet dark story about a bullied girl and how she dealt with it (I heard it's written after the author's real experiences). The reason I didn't pick this as best was because it felt kinda over the top at places.
I still wonder why Bitter Virgin did not make it into my list last year…maybe I missed it.
Best Soundtrack: Princess Tutu

Classic ballet integrated into an ugly duckling story, Princess Tutu is an anime that may appears generic but is a tale like no other. The songs are top-notch quality and are chosen very carefully from classic ballet suites.
Best Insert Songs: Kimi no Na Wa
The insert song tells the story where the dialogue lacked. Every one of them is catchy. Although I still don't buy into the 'I love you since long long long ago' being explained using the songs… well, the movie was awesome so not gonna complain about that.
Best Heartwarming: Love Live! Sunshine!!
Although part of the repetitive Idol trope, at heart Love Live Sunshine is a tale of friendship. They misunderstand each other and fight sometimes, and they got hurt and search for acceptance. We got to see how they changed from a bunch of muse's wannabes to finding their own identity as a group.
Favorite Art (anime): Koutetsujou no Kabaneri

You can say anything about Kabaneri being a Titan rip-off, but you cannot say no to the art. It is absolutely amazing. I watched it on a huge LED screen and could not tear my eyes off the animation. Just look at the details and lighting.
Favorite Art (manga): Platinum End
From the duo who did Bakuman and Death Note. The story is thrilling, and you just want to stare at the artwork all day. I really love the angels.
Honorable Mention: Hoshi wo Ou Kodomo Agartha no Shounen
I have both volumes in print and the art is gorgeous, especially the color pages.
Coolest Concept (anime): Speed Grapher
One day you got kissed by a girl who awakened a secret power within you: whatever you take a picture of explodes. That's such an original concept, although the main plot of the anime I've seen somewhere else.
Honorable Mention: Pretear
What?! It's just another harem magical girl anime! But how many magical girl anime have you seen where the main character gets to do a fusion with the guys? Also Himeno, the main girl, has an interesting background story that I don't see developed in general magical girl anime of that era. (although they stray from that as the story progresses)
Coolest Concept (manga): Omoide Emanon
What happens if an entity possess a 3 billion years old memory since life existed on earth? Omoide Emanon tells the story of a girl who knows everything. (I wonder what happens if someone killed her before she passed her memory onto someone else.)
Best Antagonist: Mihie Miach </harmony>
A philosophic and a heretic, tragic yet beautiful, clever yet childish; Mihie Miach is the protagonist's best friend who committed suicide thirteen years ago. Miach is a very complicated character and is very hard to understand her background. Although the anime itself did not reveal much about her core personality, I find it intriguing to discuss her inner motives and why she became what she is, and why she did what she did. One thing I don't like about her is how high-pitched her voice is.
WTF Ending: Makura no Danshi

I think normal people would start to yell WTF since the first episode, but the ending is really the ultimate WTF of the year.
Best Shoujo: Sennen no Yuki

Sennen no Yuki is nothing exceptional; it's not even my kind of manga. I didn't know why I read it, but how everything works together as a whole really made it like it. I found Sennen no Yuki sweet and more sensible than many other romance I've read. Also, heroine's not stupid and whiny. Yahoo.
Honorable Mention: Sora no Yousei
For some reason this made me wanna reread Vendemiaire no Tsubasa even though they had absolutely nothing in common.
Most Awaited: D. Gray Man Hallow
Finally the sequel to D Gray Man! Been waiting for six years! I got bored after episode 6 for some reason.
Cutest: Niehime to Kemono no Ou
Everything in this manga is cute, even a lizard!
Anime of the Year: Yuri!!! on Ice
So…this is an award that won't happen every year. For 2014 it's Shinsekai Yori, for 2015 there's none (Haibane Renmei would've made it but I gave it Best OST already so meh), and 2016 it's Yuri on Ice.
End
Last year I had a hell lot of good titles but this year, it's really lacking…*sigh* next year I need to get more good stuff to watch and read. Or maybe my standards got higher. Or I should stop reading so much webtoons. I don't know. But for 2017, I've got a whole lot of good ones prepared, so wait for it!