Where is the line between man and machine?
It's the awaited Ghost in the Shell 2017's opening weekend, and we're all pumped up and excited! Although live-action adaptations of anime generally has a bad reputation (Attack on Titan, Kuroshitsuji and oh my goodness Dragon Ball Evo) I had high hopes for Ghost in the Shell primarily because the Black Widow herself is starring. And it didn't flub completely.
In this post: hairstyle problems, foil characters, MAH SPIDER TANK WOOT WOOT, and big-ass hologram carps.
Ghost in the Shell is absolutely gorgeous in 3D. If you have the chance, try watching it. If you live where 4DX is available, then please see it in 4DX. GITS is made for 4DX.
*Note: I have seen GITS 1995 and Innocence. Haven't got around to watching Stand Alone Complex and ARISE yet.
When the first trailer of GITS got to the part where Kuze said 'everything they told you was a lie' and ScarJo replied 'Who are you?', I was like oh damn, not this again. But the actual thing turned out pretty good. In this post I will talk about some aspects of the movie and what I like or dislike about them.
White wash controversy?:
Let's get this straight. Ghost in the Shell needs to make money. They need a known face, a known name to draw publicity outside GITS's niche if they don't want the movie to be an utter bankruptcy and we won't get to see our beloved franchise grow out of its niche.
What GITS doesn't have is flashy romance and nipples (hence the awkward skin suit). Romance is what a lot of movies use to draw its audience, and that is what GITS17 (thankfully) doesn't have because of its theme. Which I'm grateful for.
I've heard questions like 'why not Rinko Kikuchi?' Well, I'm not going to question their casting choices for now.
Scarlet's Portrayal of the Major:
It is obvious ScarJo did a lot of homework. Although unlike the original, she blinks sometimes to convey her emotions, she really gets the Major's character. You can see from the way she talks to her body language and how doll-like she seems. What brought her amazing acting down was the teenage girl angst present in the script. You people lied to me! Nothing I have is real!
…See? GITS became your typical dystopia where someone's changed into a robot against her will. It brought down the film's attempt to retain the original material's philosophical message.
But oh my gosh, no offense but I don't like Mira Killian's hairstyle at all.
Faith to the Original Movie(s):
Jump scene? Water fight? Batou's beagle? Arimaki's triangle hair? Creepy service robots? Major breaking her synthetic arms to pull a controller off? Yes, they're all in there. GITS tries to gather new fans while pleasing original fans at home too. It's awesome to see what GITS would have looked like in real life, though nothing beats the beauty of the original animation.
Kusanagi's Awkward Background:
Sometimes being faithful to the original content doesn't do very well.
In defense of the plot: it makes recalling the past harder if you have an entirely new identity with a different race, so if Hanka does not want Mira to remember her former self, it is quite reasonable for them to change her race.
BUT how awkward is it that they wiped all her ability to speak Japanese? The awkwardness escalated in the scenes with Mrs. Kusanagi. Imagine getting your daughter back, but she's in a different body of someone from a different country with a completely different personality.
I'm Thai, I know people who can understand Thai perfectly but will reply in English no matter what language you try on them. Reason? They're not confident with their pronunciation and cannot think in Thai. I guess that's the case with Mira. She understands what Aramaki is saying but can formulate a response faster in English so she replies in English. But then if Aramaki speaks Japanese to everyone, so all Section 9 agents must have some kinds of translator installed.
Batou:
Batou feels a lot more human in this movie. In the first movie (excuse me for this but) he felt like this 'big guy' character. He's someone Motoko trusts the most, but we don't actually see much about him aside from the fact that he cares about her. Innocence expanded on his character, but he still felt like a sidekick without the hero. This is seen in the scene where Togusa and Batou successfully escapes Kim's attempt to trap them in a false reality, with Motoko giving them hints to escape. Togusa remarked to Batou "It's your guardian angel, huh?"
In the movie, he felt more of a co-worker/emotional support/comic relief type of character. At the very beginning, he could see Mira's distress and said "You're not like them." Batou is the only one Mira trusts, and they are close enough that she gave him a friendly middle finger, one of the rare moments where her body actually conveys any emotion. He also brought the human side of Mira out, pointing out that she's a cat person who actually likes dogs. Batou in the movie serves as Mira's contrast who can drag her out to do things rather than just being her loyal partner.
Well, speaking of Togusa, I wished we get to see more of his new personality. In the original he's a family man, but in the live action he's just another staff on the team. He's against enhancement at all costs, but didn't have any major role in the Major's emotional growth. He would make a great partner with Motoko since both of them don't like cybernetics.
Power of the Mind:
Creating a network from human brains? Mind communication? Now that's cool stuff.
Tell not Show:
I cannot even describe how awkward it is to hear people use the term 'Ghost' in the movie. Ghost was outright defined. That's alright, but the charms of GITS lies in the fact that we don't exactly know what 'Ghost' is. And then we get short dialogues that tell people what is going on, rather than showing it. Yes, yes, it made the movie less confusing for new fans, but you shouldn't have done it every single time. Do you not realize how cringy 'RELEASE THE SPIDER TANK RAWRRR' sounds?!?!
Also, did anyone face-palm at the spider tank scene? Like, it made Mr. Cookie Cutter a ridiculous power-obsessed villain whose only job is to blow Kuze's brain to pieces.
Amazing Landscape:
If you've watched Innocence, you would remember the parade scene.
GITS 2017's got a cool city, with gigantic holograms (which I didn't like at first) and flying carps. I'm glad they spent time on the cityscape, because that's part of world building present in the original movies. The city is all the more stunning in 3D. Watching the streets as the flow across the screen is the most enjoying part.
Those holograms remind me of Dreamfall Chapter's futuristic city.
Badass Action Sequences: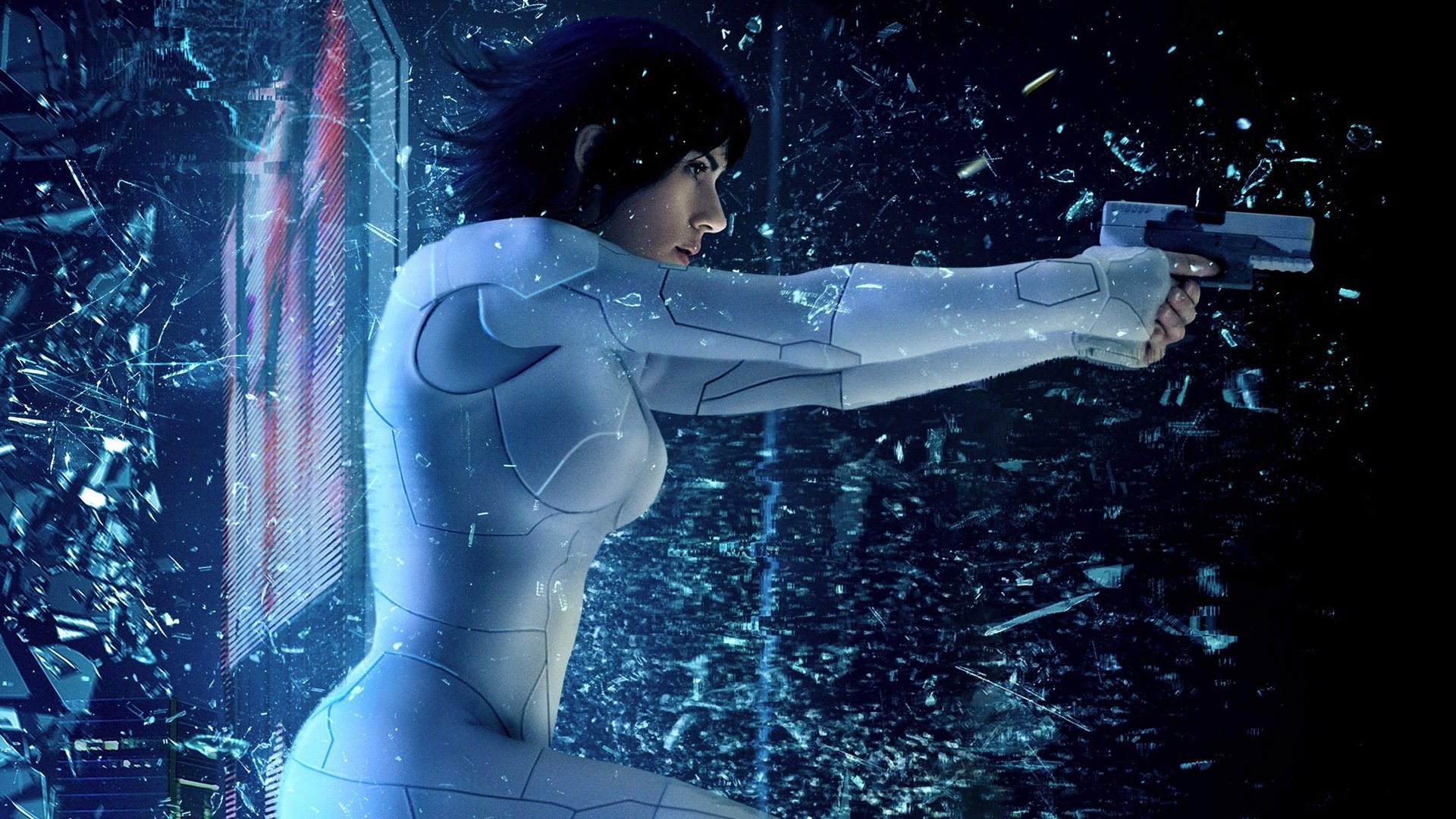 The chasing scenes and the gun rolling fights are so fun, especially with blinking lights and moving seats. Again, try it in 4DX.
Ending Theme:
Once I hear the familiar bells and drums, I immediately tell my dad to stop gathering his stuff and listen to the music. I expected Making of a Cyborg to be played at the shelling sequence, but it played at the end of the film instead. I'm glad they included that somewhere, although by the time the choir started 'A ga maeba', everyone already left the theater. And there's me sitting there like, hey, are there no GITS fans here?
Sure, the soundtrack isn't the remarkable Kenji Kawai or Yoko Kanno… but they tried to please the fans with an original soundtrack while trying to draw new audience with Hollywoody music with sorry attempts to increase tension by adding beep noises.
Overall, GITS has stunning graphics and action sequences to salvage most of the things that was lacking in the story.
So did you watch or is planning to watch Ghost in the Shell 2017? What are you opinions on this movie? Feel free to leave a comment below and discuss!