Andrea Bocelli! The greatest tenor of our time!
So… uh… do the organizers even know who he is? Do they even listen to him?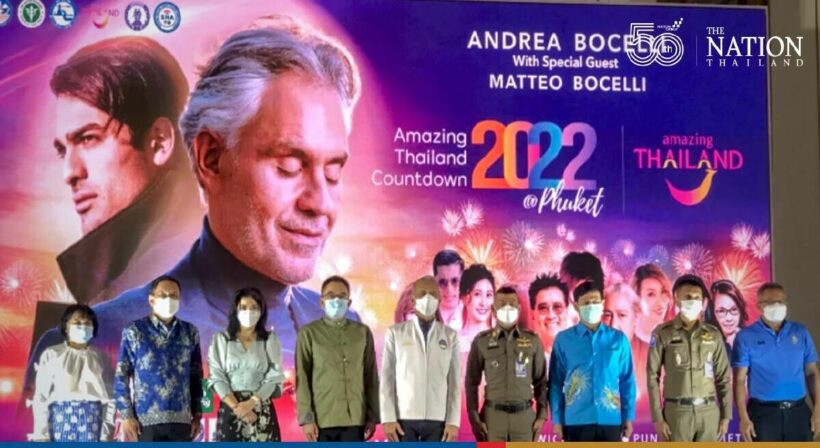 I don't usually write posts like this, since this blog is for anime/manga/light novel stuff, but about six years ago this was a lifestyle blog so I guess this isn't so out of place. I wanted to just forget this ever happened but I can't listen to Andrea Bocelli peacefully after what I consider that the Thai organizers of the event have disrespected him. I have to get this out of my system. So, here's what happened:
My family was really excited when we heard that Andrea Bocelli would be coming to Thailand. I've been listening to him ever since I was 8 because my dad was a fan. However, I live in Bangkok but he'll be performing in Phuket, so going to listen live with all the virus going around was out of the question.
At first, the organizers wanted to invite him and also Lisa from BLACKPINK, considering she was born in Thailand and she could help draw tourists to Phuket. However, the management was quite messy on the Thai side so Lisa's representatives said she could not make it. So I guess the organizers only invited Mr. Bocelli for the occasion.
There was barely any promotion of the event. I would not have known if my dad didn't tell me. I have no idea when he'll be performing, what, how long, or where. I guess the locals would know. I dunno.
I thought Mr. Bocelli would be performing in a concert hall, but turns out he'd be performing in a public park. For a public park, I guess the lighting and audio quality was pretty good, as I could see from the broadcast. Not the usual stage you'd expect him to sing in… but anyway.
(Some of the locals said there were more singers than the audience at the concert… let's just hope they were exaggerating.)
The broadcast was on. The rest of us outside of Phuket got to listen to Hallelujah, which was absolutely amazing. And then… and then…
The MCs started talking! Talking! Right! Over! His! Singing!
I can't find a video on it so I have a clip here that I recorded from the FB live. It was the same on the FB live and on the TV. The MCs went on and on and on advertising Phuket while the singing was still going on. Nobody cares about that! We didn't tune in to listen to that! (And you know what? After Hallelujah was over, the MC was like 'now let's listen to Hallelujah' like, were they even listening to what's going on the stage?!)
Did they think nobody want to listen to the music? Did they not know what they're doing? I'm not telling this to the MC since they're just following the queue, but what's wrong with the organizers? This is so unprofessional. It's downright disrespectful to the performer. My family wasn't as pissed as I am, but boy I was so pissed off. If anyone talk over my recital while I'm performing, I'd feel disrespected… Like, why'd you invite me to play for you when you're just gonna talk over me? I wouldn't feel that way if I was playing piano for a dinner party, I'd be glad they're enjoying themselves, but for a performance that I'm expecting people to listen? No, please don't chat while I'm playing. I put effort into this. I rehearsed for this. I dressed up for this and prepared to get on stage for this. Please don't ignore me and just talk like I don't exist there in the background pouring my heart into the music.
So, how could they do that to a world-class performer? It's not respectful.
I'm at least grateful the family was looking forward to the Phuket trip more than this side job concert, but still, it's embarrassing. We have his fans from overseas watching the live from the Tourism Authority of Thailand, and they kept telling the MCs to shut up, and as a Thai person, it's so damn embarrassing. So, so, damn embarrassing. Thailand is known for hospitality, not for unprofessional stuff like this, gosh…
Mind you, the only other videos I could find of his singing that happened while the MCs were busy yammering were those taken by the audience using cell phones. And then there's the long ass countdown. Gosh, I could already tell 2022 was going to be a good year when I'm pissed off right from 0.01 am. of January 1st.
I hope they never do this again to any other artists they decided to invite. And I wish I could forget what I wrote about in this blog post and listen to Andrea Bocelli without being reminded of what my country's tourism authority did.